Carl's music - sounds and sights




SOME AUTHOR'S SPECIAL RECOMMENDATIONS and additional hints

:


---


<! -- ============ HER ER RECENT ================ --!> RECENT:

There is a lot of good stuff on my Youtube channel... take a look
here (you may start with looking through all the playlists...)


---
There is a Spotify playlist with my compositions. Best way to find it is maybe to open the Spotify app and search my name (sorry, direct links don't work).
---
OLDER NICE STUFF:
Open Form Ensemble - concert during Klang Festival Copenhagen, 28.May 2021:
Programme with notes (in Danish language)
Youtube playlist covering the concert
---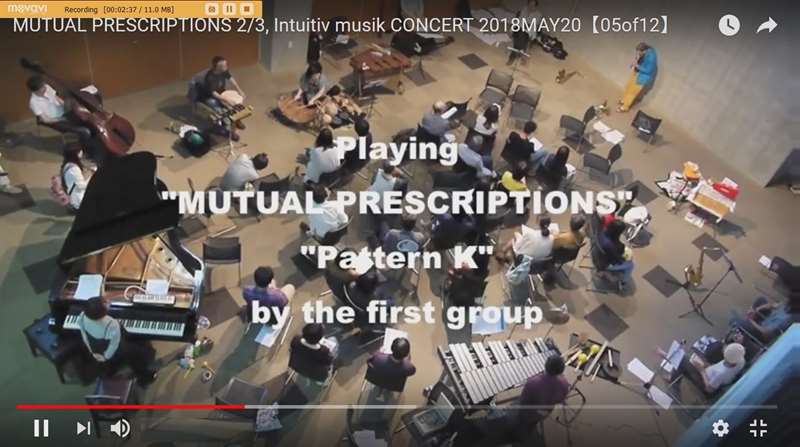 See this video from my workshop concert 2018 in Takamatsu with musicians from several parts of Japan: "Mutual Prescriptions K". If I were not already convinced that working with interaction is the most important aspect in innovating the art of composition, this would have made me think about it! See and hear for yourself - the point is that new constellations are generated all the time by means of simple hand cues...


Graphics 1 (1975), Postcard-Music (1976), Action-Reaction for guitar solo (1982), Graphic journeys 1-3 (CBN solo) (1996) from a great concert with students from Birmingham Conservatoire, England - click on the picture...:



CBN: Strategies 3 (2011) rehearsed by Kwartludium, October 2012 Warsaw - click here to see the video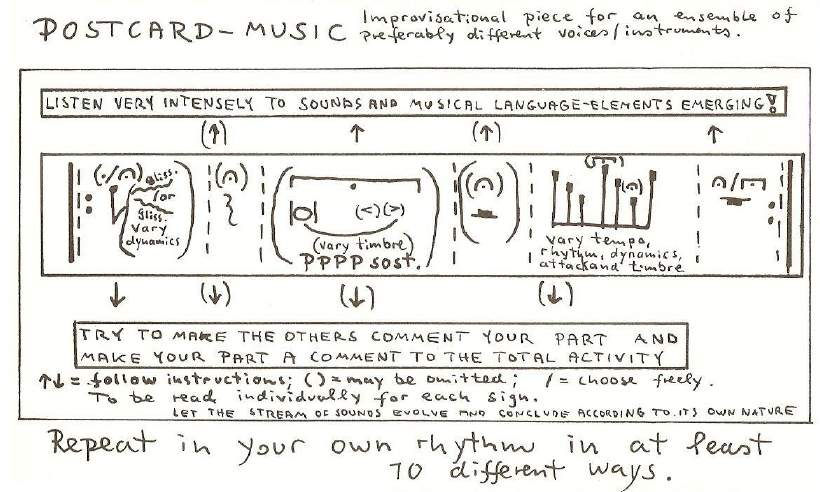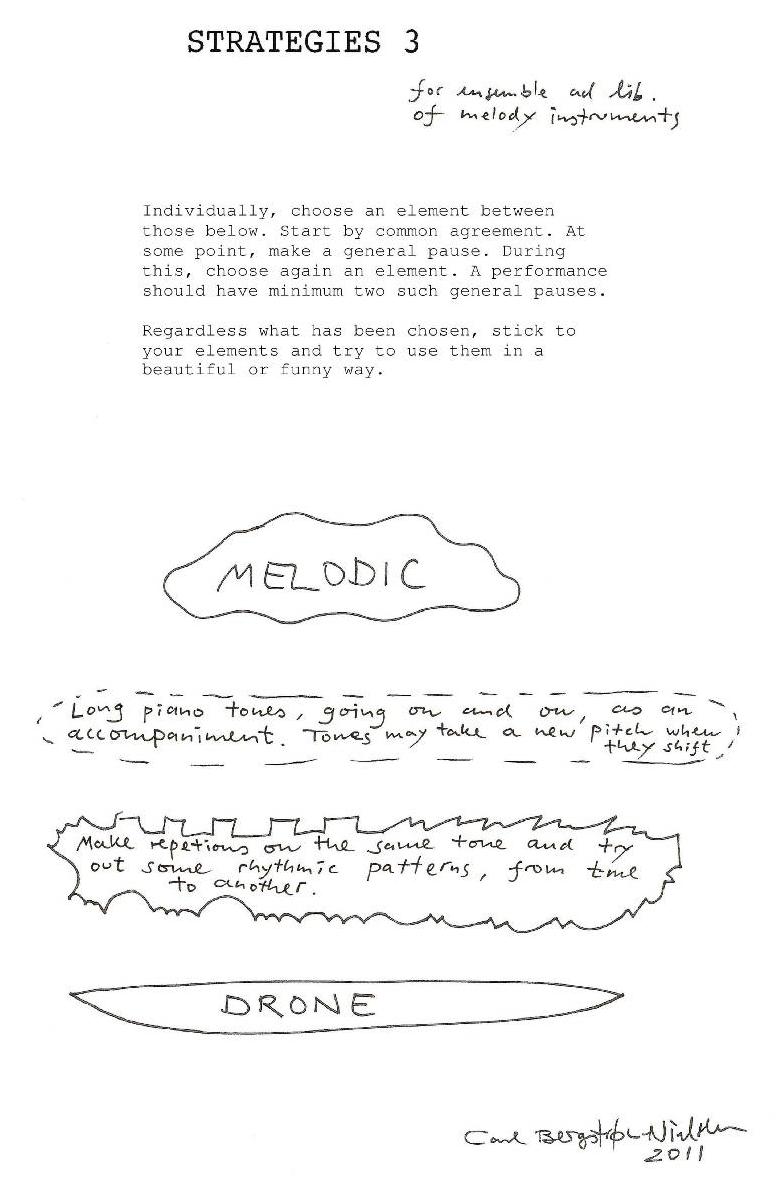 See a documentary video from the concert at Ad Libitum Festival, Warsaw 12. October 2012 h e r e. NOTE: Postcard-Music starts at 8:30. Prod. by Krzysztof Grajpner. You can listen to samples from all of the CD here as well as buy a download.
---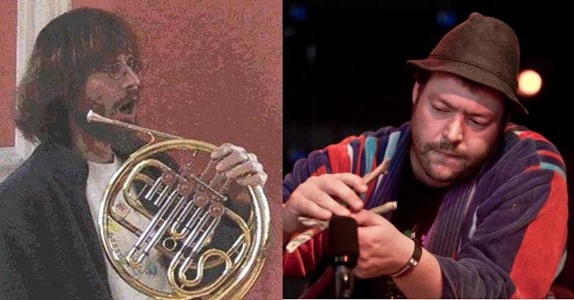 Kresten Osgood and Carl Bergstroem-Nielsen duo. Concert recording of 12. December 2012 at Kierkegaards Antikvariat, Islands Brygge 25, Copenhagen. Finally meeting again - last time was 2007!


---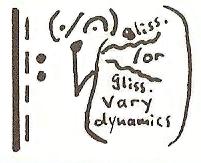 POSTCARD-MUSIC (1976). Playing material, notes and a selection of 4 recordings from the innumerable ones in my archive. From the very first rehearsal in 1976 by a small chamber ensemble with a transparent sound (my own Group for Intuitive Music), from a fabulous choir version 1976, with a sensitively playing sinfonietta, 1981 and with an experimental jazz group, Sound of Choice, 1996, very different from the others and with great consequence. Whew! I might have written even more sophisticatedly focused compositions later, but I can hardly think of any better demonstration of what open composition is all about, thanks to the musicians performing such creative jobs! All of it here.


---
Carl Bergstroem-Nielsen: Memory Pieces (2006-09).
Memory Pieces take free improvisation as the basis and cultivate the memorizing and subsequent structured use of passages played..

You might start with this video example... - complete performance instructions and many other both video and audio files are here.

---
Improvised duo (Duo 4 from CD Ermatell JCD 042) - Carl Bergstroem-Nielsen (French Horn, voice) and Frank Hiesler (percussion). From a concert after DIMC 2001. Listen (2,79MB)
This is a bit how I play sometimes ;-))
---
Carl Bergstrøm-Nielsen: Game of Contrasts (1980). Excerpt from CD IR003. From a concert in 1997. Listen. (874KB) While listening, you might look at the score here...
This is an old piece I still like and a very good recording.
---
Excerpt from beginning. From CD Denmark's Intuitive Music Conference 1997, "Second Tutti Improvisation". Improvisors Claus Bech-Nielsen, Carl Bergstroem-Nielsen, Frank Hiesler, Helene Jerg, René Mogensen, Niseema Marie Munk-Madsen, Gerhard Pischinger, Henrik Ehland Rasmussen, Robert Cole Rizzi, Johan Toft, Ivan Vincze and Kumi Wakao. Listen (560KB)
This is from one of the most fantastic improvisations I've participated in. It also received huge acclaim by reviewers and from Karlheinz Stockhausen. See here.
---
Carl Bergstroem-Nielsen, Rii Numata and Atsushi Yamaguchi improvising at Big Apple, Kobe, Japan, July 2009. Video. There was a playing rule, special for this place with its open scene in these days: players had a randomly drawn little piece of paper each. If there was an apple on it, one could consider oneself "leader". I did not have it at that improvisation ;-)