This article was first printed in the text booklet with the CD "Experimental Music From Denmark ´96", mxpcd

0296, in 1996.

SOME EXPERIMENTAL DEVELOPMENTS ON THE BACKGROUND OF DANISH "CONTEMPORARY CLASSICAL" MUSIC LIFE

by Carl Bergstrøm-Nielsen.

New Musical Notations
Influenced by earlier developments in the Western World, Danish composers in the late sixties began to experiment with the notation. Whereas the spirit of American notational innovations of the early fifthies seems to signal an attempt to begin afresh with a more spontaneous and straightforward way of playing, and whereas the beginning of European developments in the late fifthies could appear also as a dramatic challenge to traditional notation, Danish composers had a more eclectic attitude. Until about 1975, many experiments took place, more and less radical ones side by side. Later, composers and musicians having a special interest in the matter took part in activities with a special focus, such as the improvisational groups mentioned below.
Example no. 1. From Erik Jørgensen: Notturno for Orchestra. Cop. 1973 The Society for the Publication of Danish Music.

Example 1 is an early one from an orchestral piece by Erik Jørgensen. The round figure suggests a mixture of note durations to be carried out by musicians.

Example 2 is from an aural score by John Frandsen. The score represents a piece of electronic music which is only half of the composition. The other half is to be added by participants, school-children with voices and instruments. - An exhibition of Danish graphic music on eight plastic sheets with a video tape is available at the

Music Information Center, the borrower paying only transportation costs. Although texts are in Danish, English translations on paper can go with it.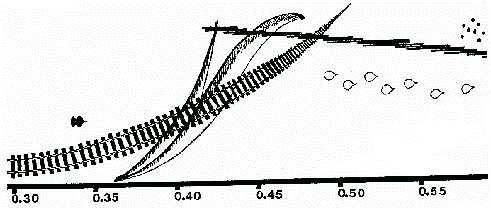 Example no. 2. From John Frandsen: "Interrail" (aural score for electronic music). Cop. 1988 Folkeskolens Musiklærerforening
Group for Alternative Music
Starting in 1970 and giving its last concert in 1977 this was a central place for young composers and musicians in Copenhagen. It originated at the Conservatory - initially as an improvising group playing regularly, hence the name "the group". Members played each other's works at a great number of concerts, sometimes held at unusual places, like early morning in a railway station, and in a boat in the canals in summertime. The group wanted to bring new music to a wider audience and to let composition be a creative activity for more people. Later well-known composers like Hans Abrahamsen and Niels Rosing-Schow were involved. The group can be compared to other anti-authoritarian movements at the time, such as the Scratch Orchestra in England, Logos in Belgium and the demonstrations against Concertgebouw concert politics by composers in Holland.
Groups performing improvised pieces
The Group for Intuitive Music originated in 1974 around the University Institute of Music with Jørgen Lekfeldt as one of the founder members. Pieces from Stockhausen's verbally notated collections From the Seven Days and For Times to Come constituted the group's first repertoire. Soon, however, it evolved into a composer-performer group giving regular concert series. They focused on free, sometimes graphic compositions giving many kinds of framework for improvised performance. By the end of the seventies, the group was split geographically and has since then given concerts only rarely, but it inspired the forming of new groups. From around the middle of the eighties, a number of groups, one being a women's group, appeared in Copenhagen under the same or similar names. At Funen a similar group was founded around 1990 by Jørgen Toft with members affiliated with the Conservatory in Odense.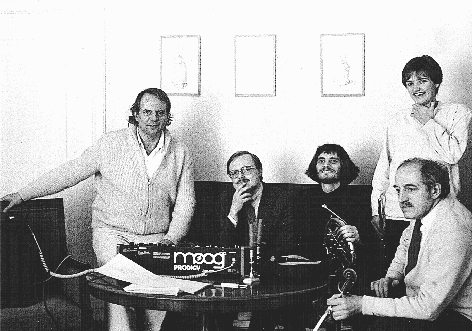 Group for Intuitive Music with Karlheinz Stockhausen in 1983. From left to right: Karlheinz Stockhausen, Jørgen Lekfeldt, Carl Bergstrøm-Nielsen, Lene Maack (standing), Ivan Vincze.
Other developments
Trends towards improvisation and using new forms of notation were institutionalized at several music educations. At the University of Aalborg, a Music Therapy education was formed in 1983. Improvised music has an important role in the therapy, as a means of personal expression for the client that can be creatively worked upon in playing together. Here, the subjets of Intuitive music, that is, improvisation exercises and making frameworks for improvisation, as well as Graphic Notation, making of aural scores, are taught by this author. In 1991 a Composer-Performer education was formed at the Conservatory of Odense, taking in also aspects of music theatre.
Preceded by a smaller electronic studio in Holstebro dating back to the seventies, a state-supported studio for electroacoustic music was formed in 1987 in Århus. Besides being at the disposal of interested experimental composers for whom it also teaches regular courses, it arranges international festivals on computer music and has presently four permanent employees. - On the scene of publishing written works, the non-profit Society for Publication of Danish Music started in 1980 a 'Manuscript Series' of works by the Danish Composer's Society. Here, composers decide theirselves what to publish on a photocopied basis, thus making it easier for experimental works to reach their market.
//
---
CBN: Favourite Litterature and Own Writings
Back to Carl Bergstrøm-Nielsen